We Live In Public
Reviews
Wired Magazine
"Smart… disturbing… [Timoner] captures the de-evolution of optimistic arty types into semi-deranged test subjects… Imminently watchable."
The Times (UK)
"The documentary maker Ondi Timoner specialises in portraits of charismatic, dynamic and dangerously deluded characters…"
National Public Radio / Eight Forty-Eight
"Maybe it was the money, maybe it was the attention… but things started going odd with Josh Harris… Ondi Timoner's documentary focuses on a man through whom we can see the profound socio-cultural transformation wrought by technology in the last several decades."
The Globe and Mail
"[Josh Harris'] personal social skills are negligible, but his vision of society has been spot on."
Vancouver Sun
(Critic's pick) We Live in Public
"Ondi Timoner has a way of making non-fiction films feel entirely personal… In her award-winning follow up to Dig!, she takes us deep into the dark heart of dot-com millionaire and disgraced internet pioneer Josh Harris. Harris was the first person who saw humanity move toward virtual encounters, and set up a performance piece involving a community of subterranean pods. Watching the social network short-circuit and the entire fabric of civility shred before your eyes can be very compelling, and Timoner doesn't miss a syncopated beat in this detailed study of public personality, and the self denied. Harris may remain a complete enigma by the final frames, but Timoner captures the blurry line between who we really are, and what we pretend to be."
Vancouver Sun
VIFF: Sex, drugs and screaming matches for all the world to see in We Live in Public documentary
"…a provocative and compelling examination of dot-com millionaire Harris and his cutting-edge art projects that attempted to plumb the profound differences between our understanding of private and public space…Through it all, Timoner's camera bears witness to each subtle shift in Harris's persona as he attempts to bargain with his own public image, and sell the notion that he's just so far ahead of his time, he's doomed to be ridiculed in the puny minds of his peers."
Chicago Sun-Times / rogerebert.suntimes.com
"This is a remarkable film about a strange and prophetic man. [4 STARS] "
Chicago Tribune
"Here's a cautionary tale for the virtual campfire… genuinely terrifying."
Chicago Reader
"[Timoner] uses her access to create a frightening portrait of a man whose technological genius fails to compensate for his gaping emotional deficits… CRITIC'S CHOICE"
The Austin Chronicle
"Timoner, who also directed the now-classic rocker doc Dig!, makes a bold and trenchant argument, via Harris' pseudomorphically perverse life, that we are all now "slaves to little boxes," and it's true, Tweetpeeps, isn't it? [4 STARS] "
ABC News
"Harris says he believes society is headed into a future where everyone lives in public.  'Orwell was wrong; the government doesn't impose Big Brother,' he says. 'Audiences demand it.'  And Harris says he's the guy to take us there."
NPR
"Ondi Timoner's We Live in Public is a breathless film about Josh Harris [whose] projects raise all sorts of fascinating issues about how digital technology is redrawing the boundaries of the self.  As its possibilities enter people's heads, they redefine what belongs to me — what is me — and what belongs to the world."
Bostonist
"Timoner's 90-minute documentary about dot-com kid Josh Harris paints Harris as a venerable Nostradamus of the Internet age… We Live In Public won the Grand Jury Prize at Sundance this year, will no doubt win over legions of filmgoers, and may just place Harris in the limelight… A vivid portrait."
Time Out New York
"Fascinating… damned near invaluable"
New Yorker
"Disturbing yet fascinating…"
MTV.com – review by Kurt Loder
"WE LIVE IN PUBLIC, Ondi Timoner's new documentary about Harris, prompts a number of questions — about the future of privacy, the decay of intimacy, and technological totalitarianism… It's a maddening, mesmerizing film."
Huffington Post
"The film serves both as a disturbing and mesmerizing drama, and a sobering warning."
New York Magazine
"Exacting, relentless… A film with the sweep of grand tragedy"
WNYC – The Leonard Lopate Show: We Live In Public
theage.com – The tangled web we weave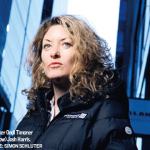 "The experiment descended into an orgiastic party. And just as quickly into hell, as the volunteers began to experience emotional meltdown. 'All the most hard-core artists were in there, they thought they could beat the system, they'd been through crazier stuff,' Timoner says."
Premium Hollywood
"Unlike her remarkable "DiG!," about the cultish neo-psychedelic rock band, the Brian Jonestown Massacre, or "Join Us," about an actual religious cult, this time the cult is not just a few fanatics, it's you and me."
All These Wonderful Things – AJ Schnack
"One has to admire Timoner's innovative thinking toward the promotion of her film.."
Philadelphia City Paper
"Timoner's shrewdly-edited film took 10 years to make from the 5,000 hours of footage she collected; the longterm schedule in similar to her previous film DIG! Her painstaking efforts pay off."
Documentary.org
"A suggestion for anyone considering DIY distribution for your project: make sure you have a spokesperson for your film who is as charismatic as filmmaker Ondi Timoner."
LA Times
"Aggressively hip…"
LA2Day
"The film has already won a Grand Jury Prize at Sundance and played to an over-sold out audience at the LA premiere at the LA Film Festival on Sunday night, which included Billy Idol and Brandon Boyd (Incubus) and actors Adrian Grenier and Eliza Dushku…"
Premium Hollywood
"If there's any doubt that, despite the lack of flying cars or commercial space travel, we live in a science-fiction world, this film's look at Harris's ethically questionable but fascinating experiments in weirder-living through 'net-driven intrusion does the trick."
LA Weekly
"CRITIC'S PICK WE LIVE IN PUBLIC (USA) Winner of the Grand Jury Prize at this year's Sundance Film Festival, director Ondi Timoner's remarkable documentary follows obsessive self-documenter Josh Harris on his decadelong odyssey from multimillionaire Internet pioneer and Manhattan art-world cause célèbre to bankrupt (financially and emotionally), mentally unhinged exile."
Variety
"Building on momentum from Sundance, Ondi Timoner's We Live in Public continues to build a following…"
MovieLine
"In Harris, [director] Timoner has as mercurial, brilliant and adversarial a subject as she did in volatile rocker Anton Newcombe, the star of her 2004 doc DIG!"
The Stranger
"Part thriller, part art-history lesson and totally amazing."
Film Threat
"In her mind-blowing documentary… filmmaker Ondi Timoner suggests that virtual interaction is trumping physical communication…"
Wall Street Journal
"'The Truman Show for Everyone' — It took Ondi Timoner 10 years and more than 5,000 hours of footage to stitch together 'We Live in Public,' a 90-minute documentary about the internet pioneer-turned performance artist Josh Harris."
The Hollywood Reporter
"Sundance success: As nice as it is to have your film selected to be shown at Sundance, it's way nicer to take home an award and nicer yet to win one for the second time. That's the happy reality for Ondi Timoner, whose "We Live in Public" recently won the Sundance Grand Jury Prize for U.S. documentary."

The House Next Door
Ondi Timoner is fascinated by troubled men of extraordinary insight; she calls them "delusional visionaries."
Gawker
"Nothing about Pseudo.com, Josh Harris's '90s-era Internet-broadcasting startup, was ever particularly real. So when Harris was apparently attacked by someone claiming to be a Pseudo fan last night, can you blame his doubters?"
The Village Voice
"Ondi Timoner is the first director to have won the top documentary award at Sundance twice, and the first person to tell you she had no idea what her latest film was about…"
Slant Magazine review SLANT MAGAZINE – March 23rd, 2009
"Timoner… pieces together a thought-provoking portrait of society's future through the technology of the recent past."
The New York Times blog
"In the downtown Manhattan circles of the 90s, Harris was the 'Internet Guy' who supported cutting edge artists and threw great parties. But in Timoner's film he was also a social visionary."
Greencine podcast
"Ondi Timoner (DiG!) won her second Sundance Grand Jury Prize this year for We Live in Public, her compelling new doc screening at SXSW."
CNN
"In an underground bunker in the heart of New York City a unique experiment is taking place…"
Variety review
"This astounding new docu burrows into the thin and darkly funny spaces between artistry and vanity, isolation and community, collaboration and exploitation, sanity and madness. Although the Warhol-esque Harris may put off some viewers infuriated (or intimidated) by his immodest brilliance and borderline sadism, others will be turned on by a provocative pic that deserves an audience as expansive as MySpace."
TOP SUNDANCE PICKS
"I can't express enough how awesome [We Live in Public] is… you wanna talk about the film of Sundance 2009? Look no further."
Realscreen – interview with Ondi Timoner
Back in 2004 Ondi Timoner won the Grand Jury Award U.S. Documentary for Dig! and she just won again, this time for her doc on Josh Harris, a dotcom millionaire and artist who, in 1999, created a bunker where people literally "lived in public", allowing Harris to broadcast their images and lives over the Internet.
Nasty Nets
Two Nasty Nets members Joel Holmberg (from Berlin) and Chris Coy (from Salt Lake City) met each other for the first time here at the Festival, and met with Ondi Timoner to talk about something they're all invested in: virtual worlds and how they affect people in the real one.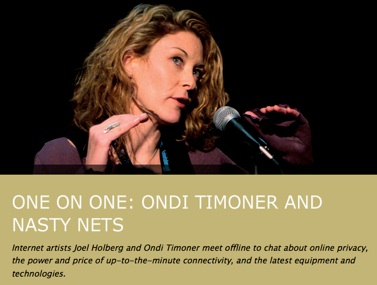 The New York Times
"In addition to featuring a fair amount of nudity and drug taking, 'We Live in Public' offers a portrait of a moment in the culture when everything changed.  When Mr. Harris formed Pseudo Programs in 1993, personal e-mail addresses weren't the norm, but Mr. Harris was convinced that lives would come to be lived not only on the Web, but in public as well."
Washington Post
"It took me a beat to realize that what Josh Harris created in 1999 was a physical metaphor for where the Internet would take us," she said. "It was his way of saying, 'No matter what I put together, no matter how fascistic it may appear; whether you have to wear uniforms or you have to be interrogated, or the fact that you can't leave — people won't care about that. They won't bother with the details.' He knew they would pour through the doors for the promise of 110 surveillance cameras and being part of what, right then, was the place to be.""   
Wearemoviegeeks.com
"Ondi Timoner has created a true masterpiece and it is something that needs to be seen by anyone who is involved with, or creates things that go on the web."
Cinematical
"But even with the occasional bit of loopy tech-talk or burbling enthusiasm only lightly tinged with forethought, many of the insights Calacanis, Harris, Timoner and the film offer are fascinating. How much of our lives are we sacrificing for the illusory intimacy of Facebook and the 140-character blurps of Twitter? Has the ability to say what we're thinking to a broader and broader group diluted the quality of what we have to say? Who owns these electric extensions of our self, and how long will they endure?"
CNET
CNET follows Ondi for a "day in the life" at Sundance.
Moviemaker.com
Ondi's interview with Andrew Gnerre is up!
Cinematical – interview with Josh Harris + Ondi Timoner
Listen to the full interview.
Boston Globe – blog
"The movie's a portrait of genius folly indulged and a spooky object lesson in the limits of technological and human connectivity. Or as someone says here, "The more you get to know everyone, the more alone you become."   
Variety's Anne Thompson wrote a blog today about hot titles at Sundance, and we're included!

Digitalcontentproducer.com – podcast
Ondi's interview with Craig Erpelding.
Indiewire interview