By IndiePix. Filed in
Uncategorized
|
The countdown is ON for our **major** March 1st DVD/VOD release event that will connect the screenings and festivities in Vancouver, LA, Denver, Chicago, New York and Atlanta and bring them to YOU at weliveinpublicthemovie.com beginning at 5:30pm PST.   The grand hostess of the LA branch of this affair will be none other than the gorgeous Eliza Dushku, who released this statement about WE LIVE IN PUBLIC:
"We Live In Public is an extraordinary film that I have followed since it won the Grand Jury Prize at Sundance last year.  The film has travelled the globe and captivated audiences with an extremely powerful message regarding today's Internet culture. In addition to being a compelling doc about entrepreneur Josh Harris, WLIP asks the hard question: what happens when we start to live in a virtual world rather than in the physical one. Witnessing Ondi document Josh's joy and suffering caused by living a public life on the web, the film challenges us to look at whether or not social networking is worth the loss of our own privacy and dignity. As an actress in a culture of celebrity, I know all too well that I exist in my own virtual "pod" and this films sheds light on my own existence.  As Ondi Timoner's producing partner on her next project, a Robert Mapplethorpe biopic, I've been thrilled to support her current journey with We Live in Public.  You must see it to believe it.  I ask you to join us. I am honored and excited to be a part of the 6-city live streaming broadcast, video on demand and DVD release with Ondi and her followers.  Using today's technology, we will come together from all corners of the country to a common place and send off this astonishing film for a wide release.  Congratulations, Ondi.
Thanks, Eliza — we love you!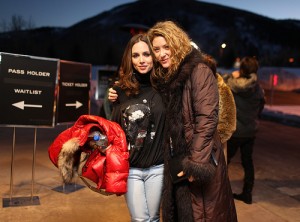 Ondi and Eliza at Sundance 2009
If you are going to be in any of our hub cities on March 1st, come join us live!  Details on weliveinpublicthemovie.com.