By IndiePix. Filed in
Blogs
,
Buzz
,
Events
,
josh harris
,
Theatrical Release
|
WE LIVE IN PUBLIC has extended our theatrical run in NYC at the IFC Center.  Do not miss out on one of the most talked-about and acclaimed docs of 2009 — this is a very limited engagement!  Go get your seat and be sure to tell your New York area friends.  BUY TICKETS HERE.
Screening times: 1:10pm and 7:30pm daily.   Next on the whistle-stop tour: Boston.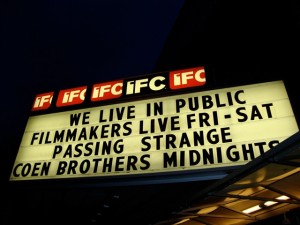 WE LIVE IN PUBLIC marquee!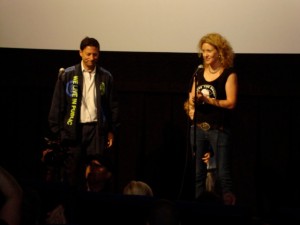 Ondi + Josh at an IFC Q+A
We continue to get incredible press on our documentary and as of today we have an 89% Fresh rating on Rotten Tomatoes.  Here's the latest media round-up for you!
NEW YORK MAGAZINE—August 28th, 2009—Vanita Salsbury asks Josh Harris 21 questions
"Josh Harris: I am staying in a Hollywood pool house driving a yellow Corvette. I can barely afford the gas to make it go. I am lucky to have good friends…"
http://nymag.com/daily/intel/2009/08/internet_pioneer_josh_harris_i.html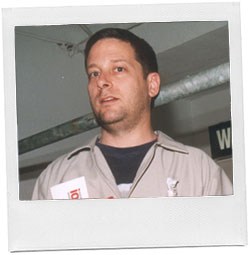 HUFFINGTON POST—September 2nd, 2009—Dan Persons interviews Ondi Timoner for the Mighty Movie Podcast
"The film serves both as a disturbing and mesmerizing drama, and a sobering warning."
http://www.huffingtonpost.com/dan-persons/emmighty-movie-podcastem_b_276021.html
WNYC: THE LEONARD LOPATE SHOW: WE LIVE IN PUBLIC—August 27, 2009—Radio Interview
"Award-winning director Ondi Timoner and Josh Harris discuss the new documentary WE LIVE IN PUBLIC…"
http://www.wnyc.org/shows/lopate/episodes/2009/08/27/segments/139503
AWEARNESS: The Kenneth Cole Blog—September 2nd, 2009—Dan Persons interviews Ondi Timoner for the Mighty Movie Podcast
"Many of Harris's seemingly insane ideas have been manifest in the ubiquity of sites like Facebook and Twitter: we really do live in public now, so why isn't Harris getting any props for being way ahead of the curve? Just think of it: when Harris founded Pseudo, in 1994, the founders of Facebook were still in grade school."
http://awearnessblog.com/2009/09/long-before-facebook.php
SCATTER/GATHER:ideas+opinions from content strategists at Razorfish—September 1, 2009—Now Watch This: WE LIVE IN PUBLIC
"Dozens of people lived together in close quarters and had cameras pointed at them everywhere they went, every minute of the day. It got messy. Days later, we were still thinking about it."
http://scattergather.razorfish.com/691/2009/09/01/now-watch-this-we-live-in-public/
DALLASBLACK.COM—August 28th, 2009—Four star review by Kam Williams
"Vividly recounted… A cautionary documentary about the dire prospects of a culture where people feel most validated by a television camera."
http://www.dallasblack.com/reviews/movie/frweliveinpublic
See more recent press for WE LIVE IN PUBLIC here:
http://www.weliveinpublicthemovie.com/2009/08/31/reviewers-heart-wlip-says-rotten-tomatoes-press-roundup/
http://www.weliveinpublicthemovie.com/2009/08/28/hot-off-the-presses-for-we-live-in-public/
http://www.weliveinpublicthemovie.com/2009/08/26/nyc-advance-press-accolades/