Wednesday, February 24th, 2010
WE LIVE IN PUBLIC is being released on March 1st via digital download and DVD and we are busily preparing for our uber-wired, star-studded launch party premiere.  You are coming, right?  Yes you are!
You can come be with us LIVE if you are going to be in Vancouver, LA Denver, Chicago, New York or Atlanta on March 1, or tune into www.weliveinpublicthemovie.com beginning at 5:30pm PST for the live webcast.  Not only will Director Ondi Timoner and star Josh Harris be available for your probing questions, but Adrian Grenier will be hosting from New York and Eliza Dushku will be helming the festivities in Los Angeles.
Check out what Adrian has to say about WE LIVE IN PUBLIC and our upcoming event!
"I'm pumped to be a part of this unique web-cast conversation for "We Live in Public".  I am excited to be paving new territory with a trusted explorer Ondi Timoner. Not only is the film amazing and timely, but the web is a perfect forum to share it with its fans.  I've loved her films for years and have always watched her closely because as an independent thinker and filmmaker, she's been smart and innovative in this uncharted space called the internet. Ondi, with this film, has almost become an oracle in my mind. I am an independent documentary filmmaker myself and because my last film TEENAGE PAPARAZZO shares many similar themes as WE LIVE IN PUBLIC, I feel a strong sense of simpatico with Ondi. These days it is important that we all band together as independent spirits to share momentum and support. Low budget  independent films and documentaries were once marginalized, but that's not the case anymore. On the internet, with whatever budget and with whatever genre of film, we can appeal directly to our audience and let the audience speak and respond. The internet is the great democratizing force. The '90s saw the rise of independent film and now we will usher in a new era of independent film that, thanks to the internet and web-casts such as this, includes the audience in the equation as well. Let's do this, I can't wait."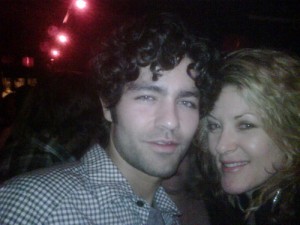 Ondi and Adrian at Sundance 2010
Thanks, Adrian!
YOU can come be a part of the conversation on March 1st, so join Ondi, Josh, Adrian, Eliza and the gang and be a part of film and internet history!