By IndiePix. Filed in
Buzz
,
Theatrical Release
|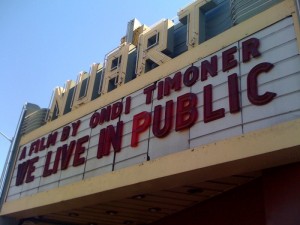 Get your heinies over to the NuArt!  We had an all-out incredible opening weekend and now you've got T minus five more days to see us blown up on the big screen, Los Angeles.
BUY TICKETS HERE
"Anyone who still maintains that documentary films are the domain of the dry and donnish has never seen the work of Ondi Timoner… Aggressively hip!"  Check out the latest LA Times rave about us:
http://www.latimes.com/entertainment/news/la-ca-indiefocus27-2009sep27,0,5046431.story
"A suggestion for anyone considering DIY distribution for your project: make sure you have a spokesperson for your film who is as charismatic as filmmaker Ondi Timoner."  Look at this article about Ondi's recent talk at the International Documentary Association:
http://www.documentary.org/node/11693
Go! NuArt!   And San Francisco… you are up next.  Opens FRIDAY at the Roxie for your Northern Californians…   INFO HERE.